COME JOIN US FOR SOME FUN/VEN Y ÚNETE PARA DIVERTIRTE

Good Morning Families, Just a reminder to participate in the 5-Essentials parent survey available until March 11, 2022. Your feedback is important for the improvement of our academy. Please share your opinions by completing the 5-Essentials survey by clicking the link below:
http://survey.5-essentials.org/illinois/survey/parent/

Mask Mitigation/Mitigación de máscara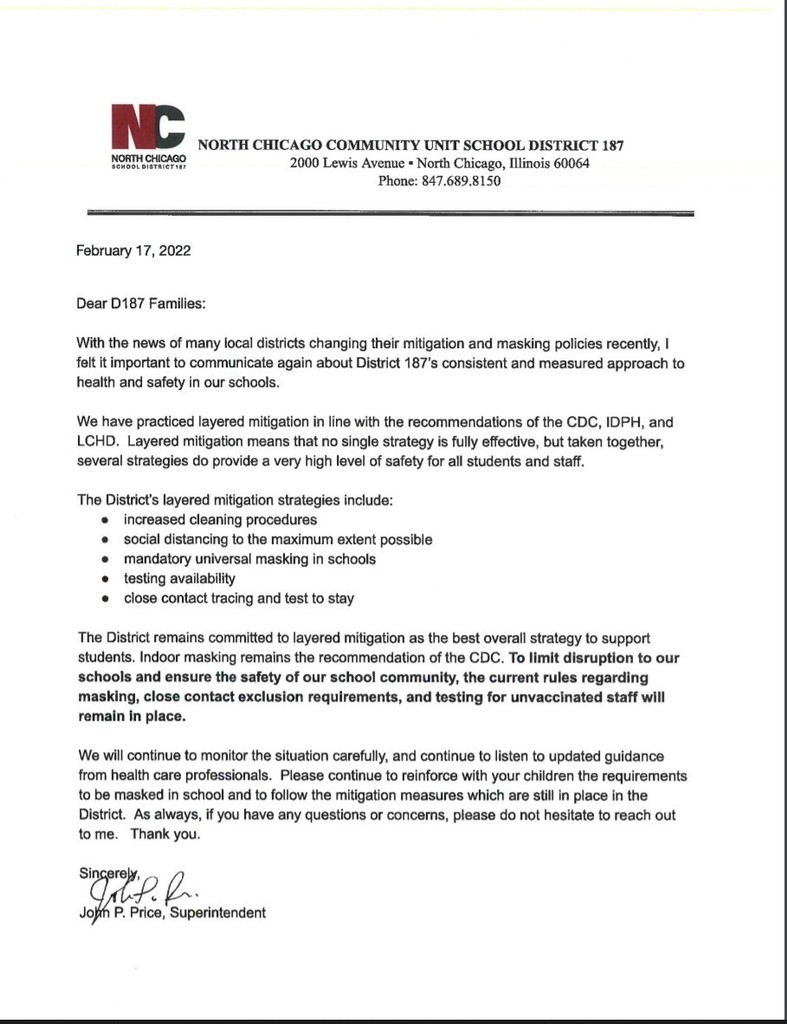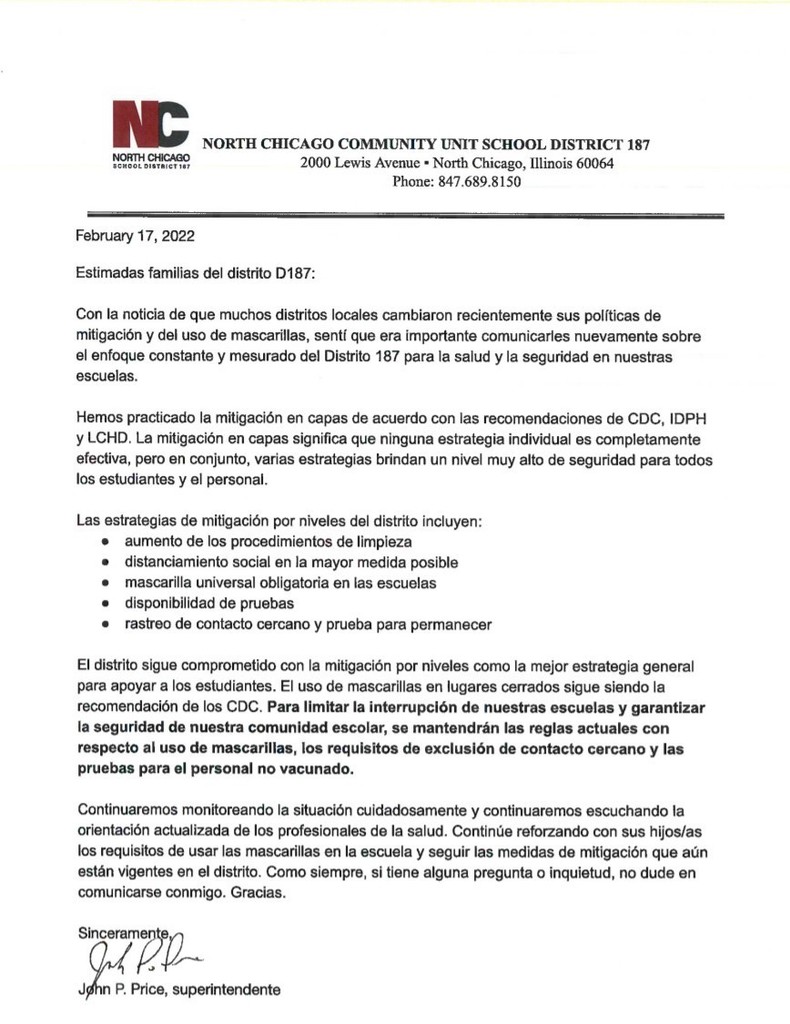 Every Day Matters/Todos Los Días Importan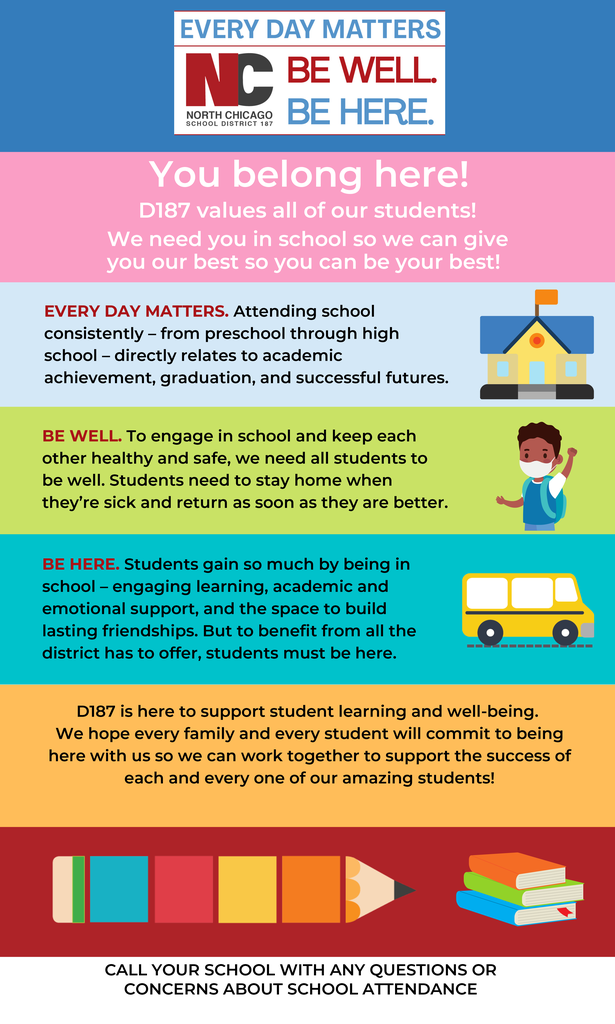 Remember to stop by the Parent Resource Center TODAY between 4:00 - 7:00 pm/Recuerde pasar por el Centro de recursos para padres HOY entre las 4:00 pm y las 7:00 pm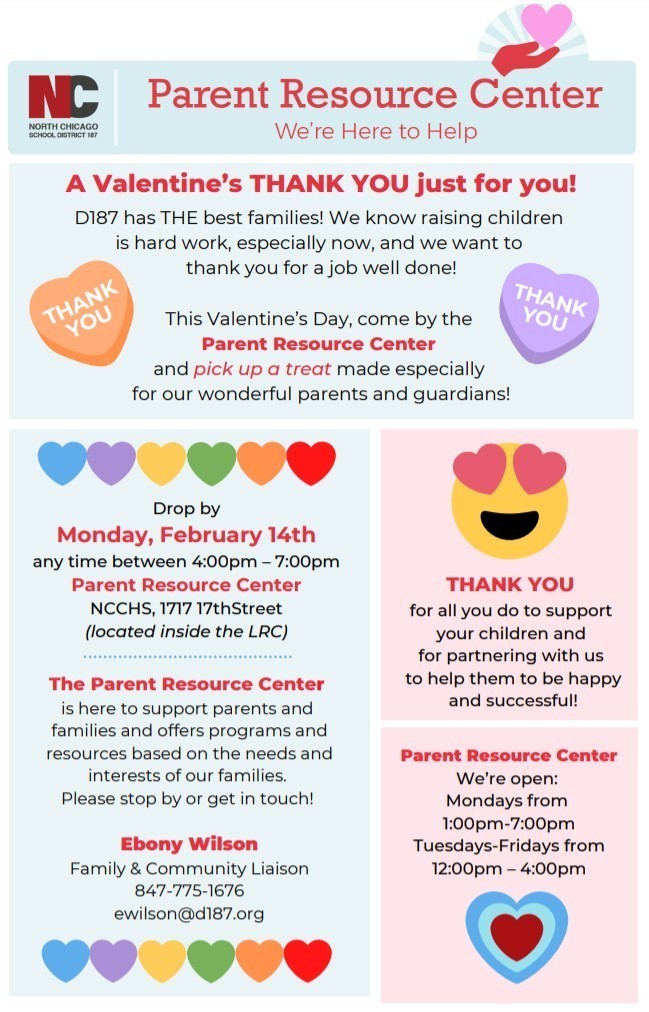 A Valentine's THANK YOU just for you!/¡Un agradecimiento de San Valentín solo para usted!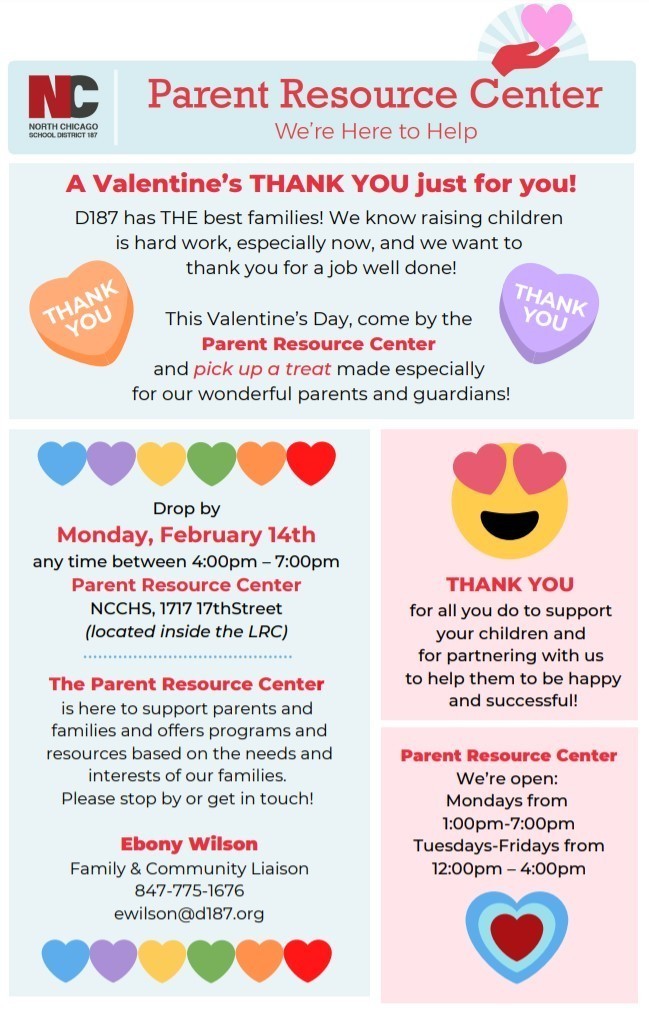 Please Join us VIRTUALLY - TONIGHT @ 5:30 pm/Por favor únete a nosotros VIRTUALMENTE - ESTA NOCHE @ 5:30 pm meet.google.com/ouo-wxjy-qhv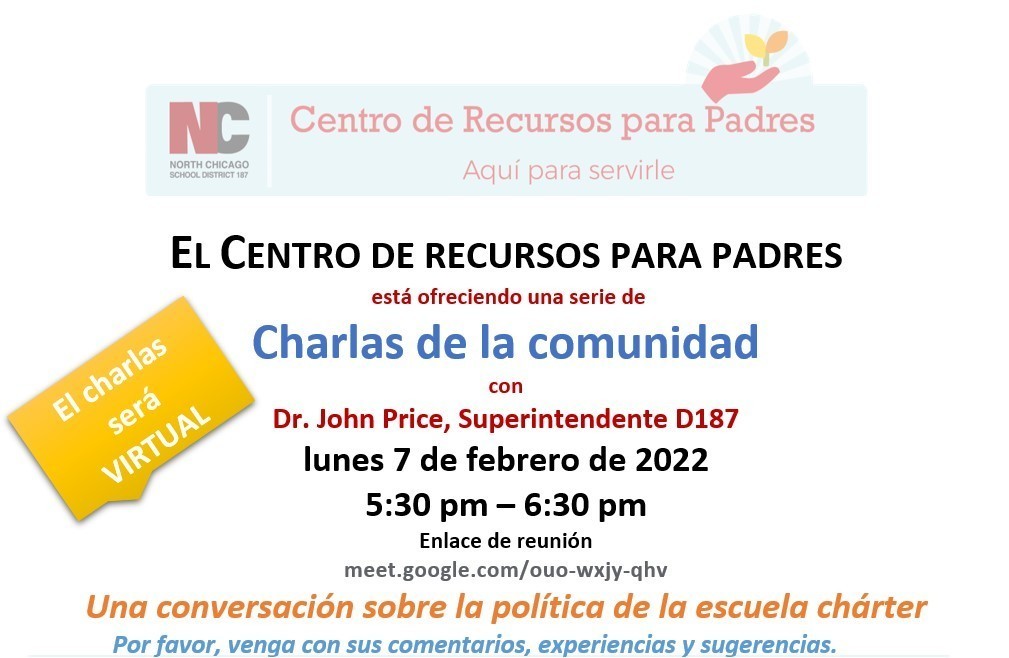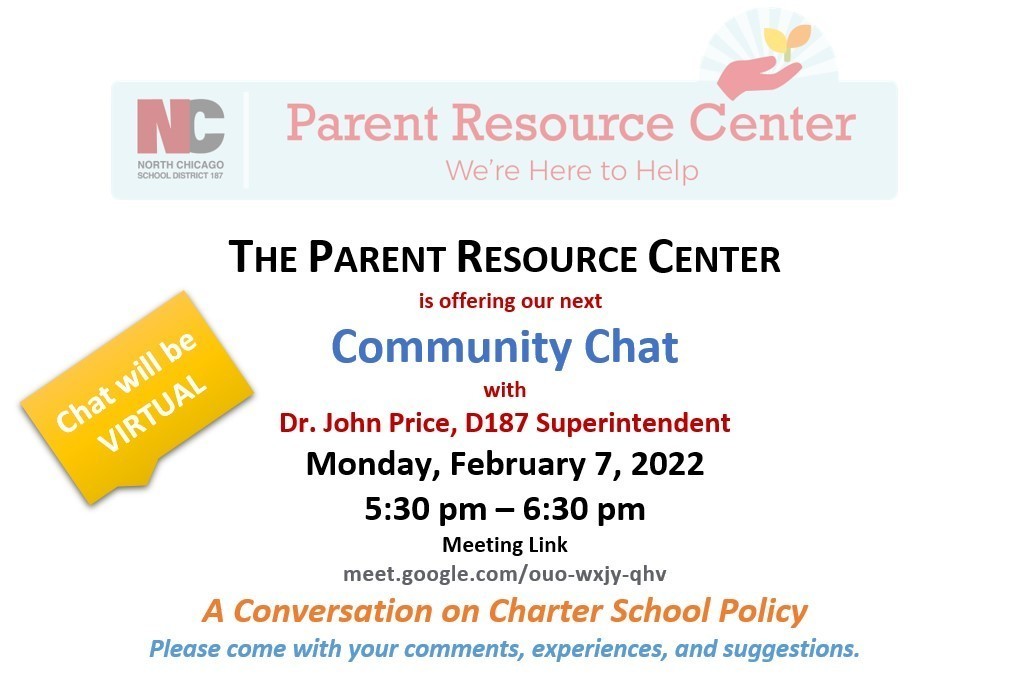 Families/familias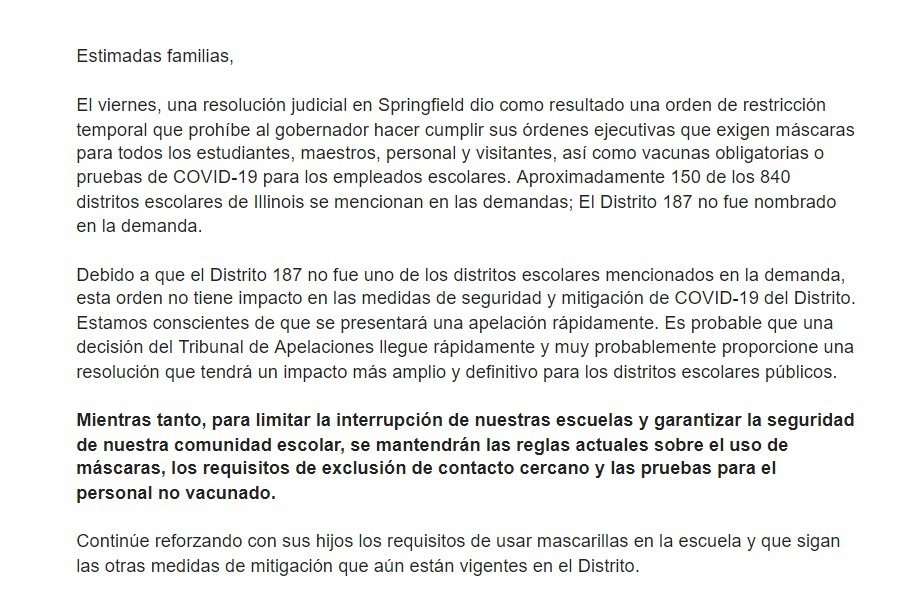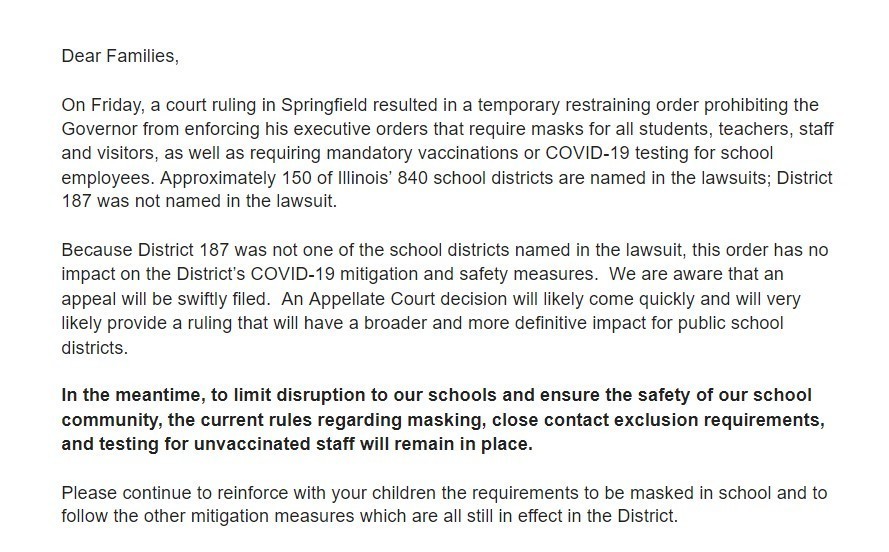 Please Join us VIRTUALLY/Por favor únete a nosotros VIRTUALMENTE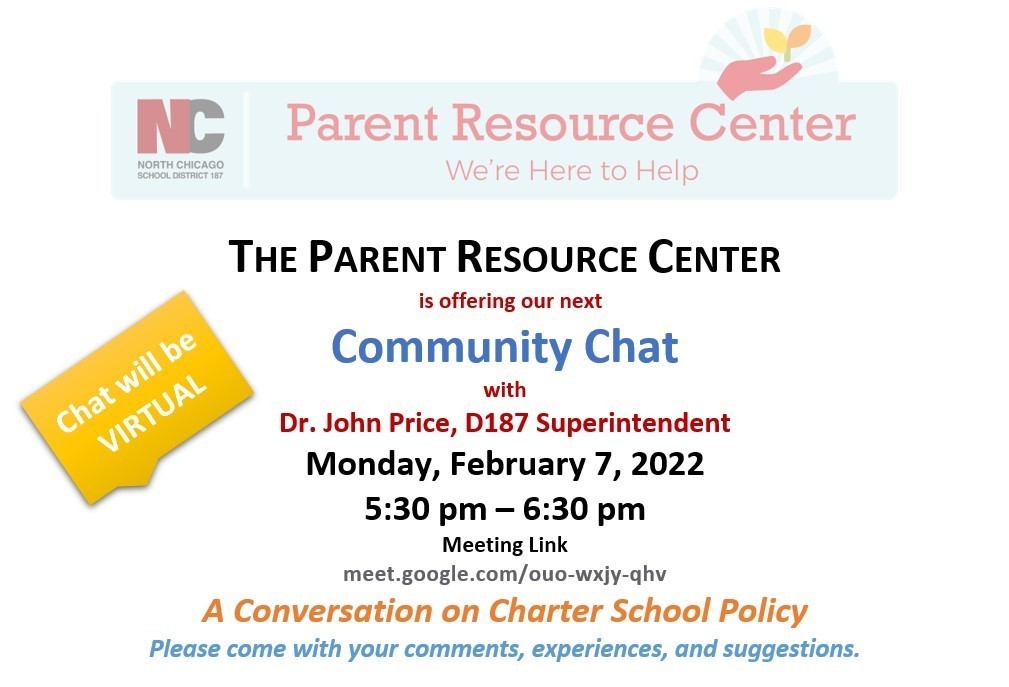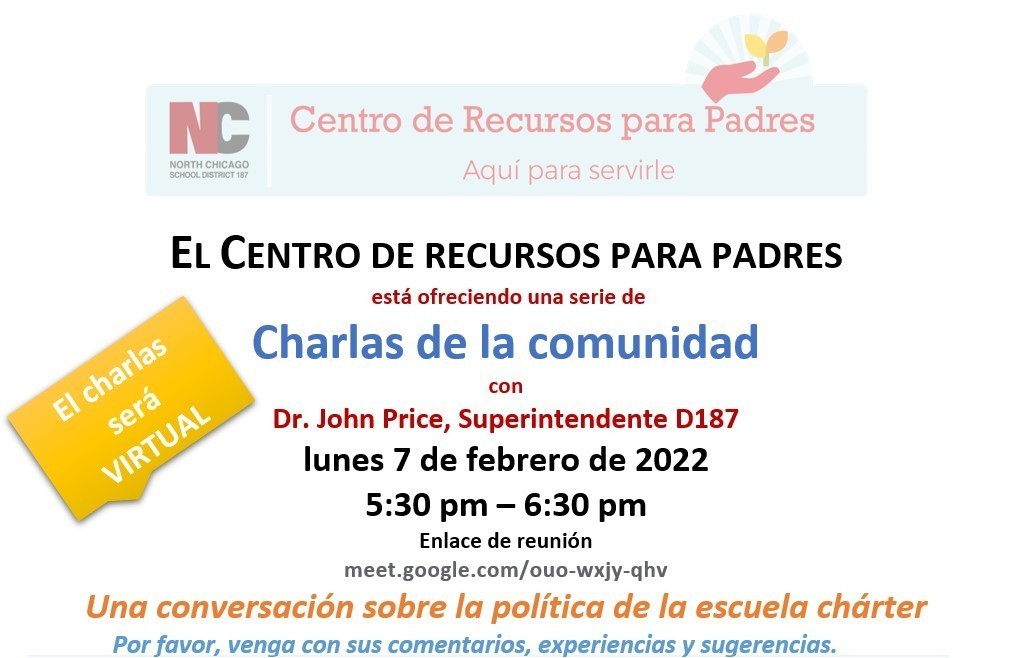 All Schools are Open Today/todas las escuelas están abiertas hoy

The Family Care Closet is open on Thursdays 9:00 - 11:00 am and 2:30 - 4:30 pm/El Family Care Closet está abierto los jueves de 9:00 - 11:00 am y 2:30 - 4:30 pm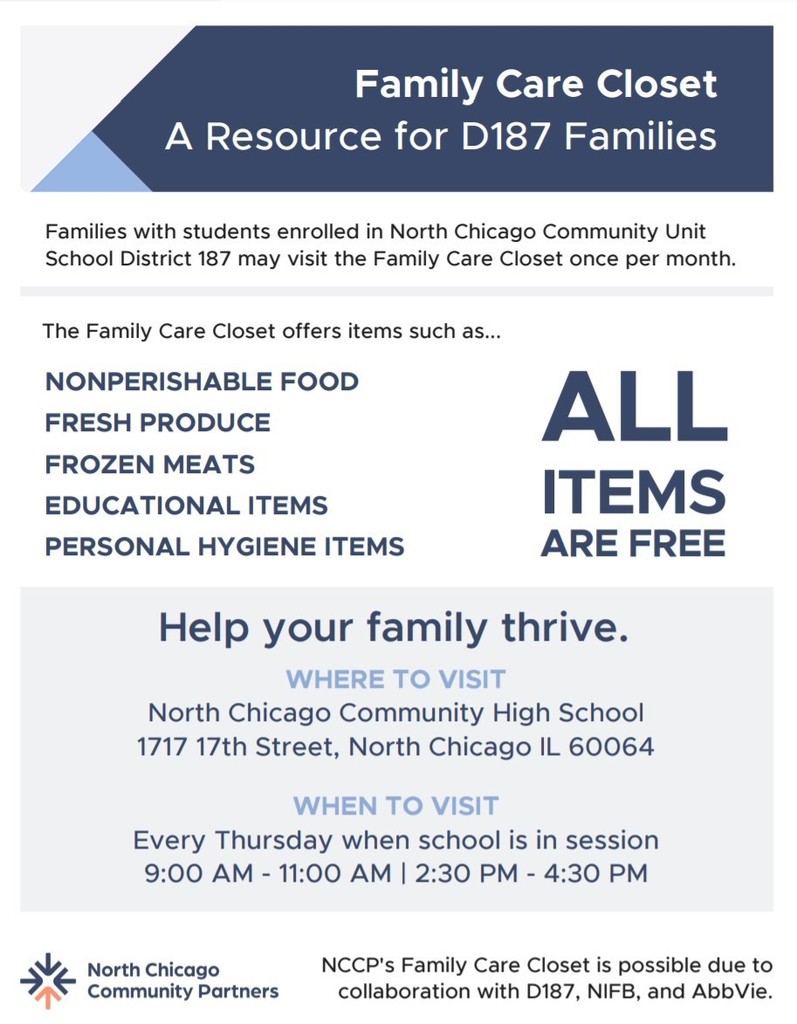 You're Invited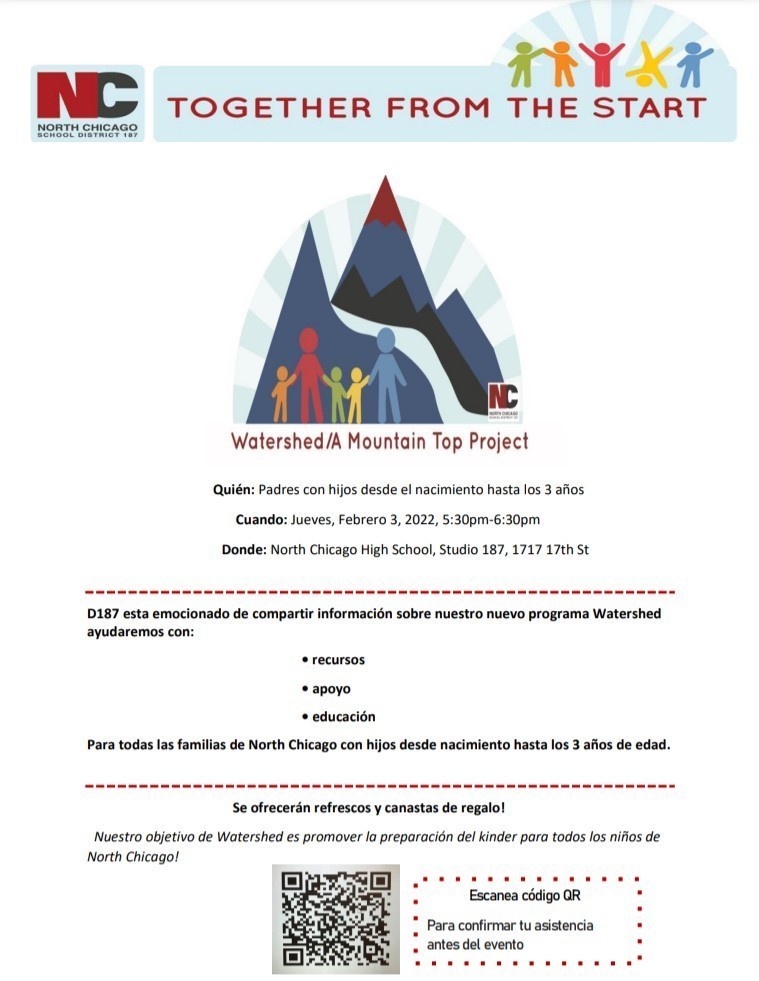 You're Invited!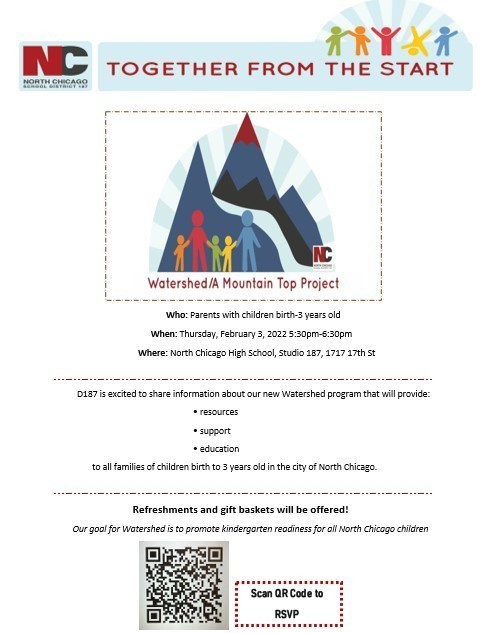 Please join us tonight at 5:30 pm for our Community Chat on Charter School Policy/Únase a nosotros esta noche a las 5:30 p. m. para nuestro chat comunitario sobre la política de la escuela autónoma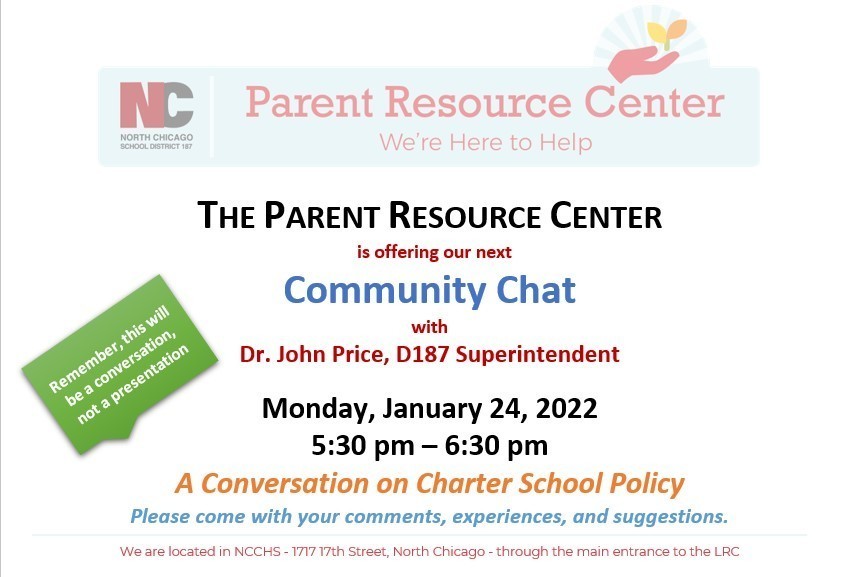 Join us if you are new to Schoology or need a refresher. We are here to help you! Acompáñenos si es nuevo(a) en Schoology o necesita un repaso. ¡Estamos aquí para ayudarle!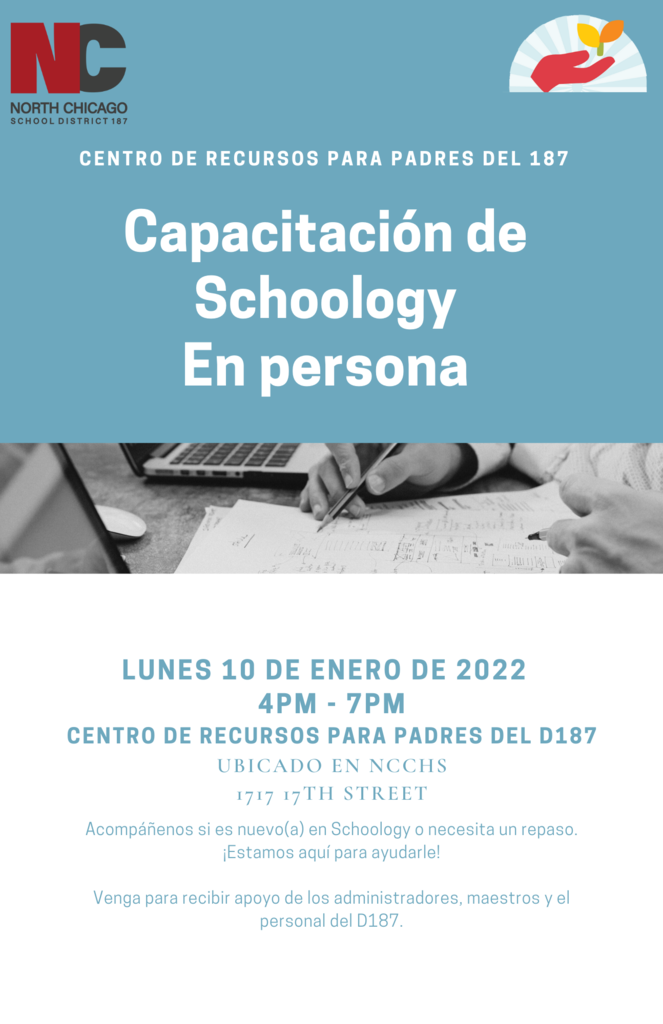 Dear Parents: Each North Chicago School is now providing COVID testing for your child. In order for your child to participate in this free program, you must first register with our partner and create an account. This gives us permission to test your child at school. To set up your account, please go to this website and follow the simple directions:
https://webapp.crisisgo.net/testing-consent/#/register/select-identity?workspaceId=182
Thank you for your support. Sincerely, John P. Price, Superintendent Queridos padres: Cada escuela de North Chicago ahora está proporcionando pruebas COVID para su hijo. Para que su hijo pueda participar en este programa gratuito, primero debe registrarse con nuestro socio y crear una cuenta. Esto nos da permiso para evaluar a su hijo en la escuela. Para configurar su cuenta, vaya a este sitio web y siga las sencillas instrucciones:
https://webapp.crisisgo.net/testing-consent/#/register/select-identity?workspaceId=182
Gracias por tu apoyo. John P. Price, Superintendente

Reminder/Recordatorio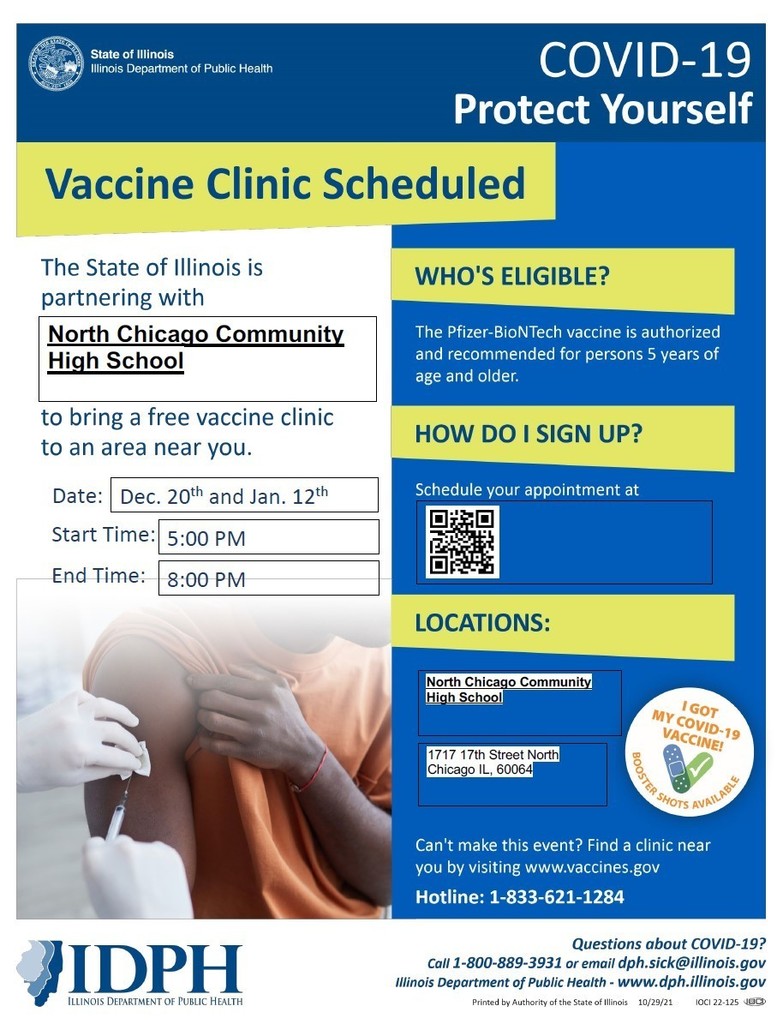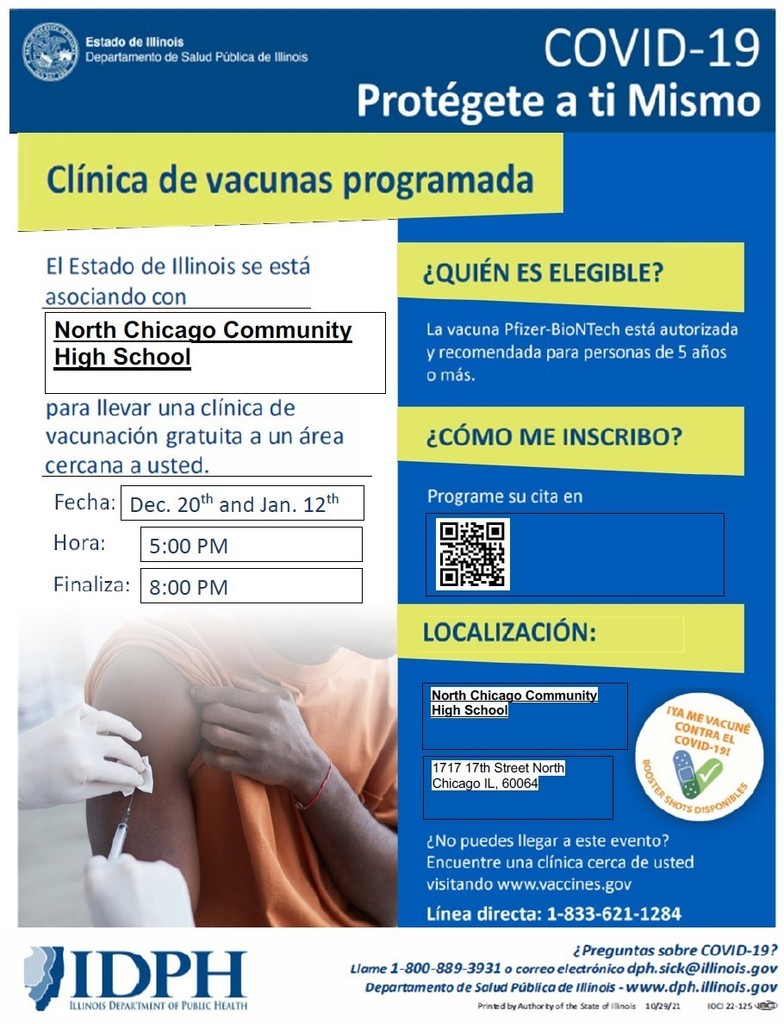 Attention D187 Families The Family Care Closet will be closed December 17 - January 3. It will reopen Thursday, January 6th. Have a safe break! ****************************************************************************** Atención Familias D187 El Family Care Closet estará cerrado del 17 de diciembre al 3 de enero. Reabrirá el jueves 6 de enero. ¡Que tengas un buen descanso!

Please see attached regarding upcoming clinic for persons 5 years of age and older. /Consulte el adjunto sobre la próxima clínica para personas de 5 años o más.